MONTH IN REVIEW: OPENINGS, CLOSINGS & NEWS...
FACEBOOK
40,000 Members!!!! Woohoo!!!! Time to celebrate!!!
Wow, what an amazing milestone. 40,000 people. 40,000 people who love food and love to talk about restaurants. Congratulations to all of you for making GKRF what it is today.
For those who have been with us since Day 1, which is just over 3 years, (and that is remarkable in itself because it's a baby compared to others) know where we came from and where we are today. People think this is easy but it's a culmination of 15 years of hard work that has gotten me/us to this point. Late nights, time away from the family, juggling dozens of items at once, hundreds of messages, email and texts. It is physically impossible to visit everyone within the time constraints of responsibilities of having a family or being the President of a shul. I can not post all the time for everyone and that has been a problem for some. We do the best we can and than we just hang on for dear life. But things like this don't happen by accident and it's not every day (or ever) that a Facebook group in the Jewish world has 40,000 members, most who are active and passionate and wonderful.
What sets us a part from anything on social media, is that you are not followers. But you are members. This is not a one side mirror where I just get to post, but you are part of this foodie family and you should be proud of it. As I said many times, this is not about one person, this is not about anyone being an influencer, we are a community. We have spent the greater part of 3 years together, everyday coming back here to talk about food and restaurants and sharing our experiences. Sure, there are jokes and arguments, but with 40,000 people, I think we've done a darn good job at it. Also, this group is actually pretty fun, and interesting and exciting. We learn from each other. And we are there for each other.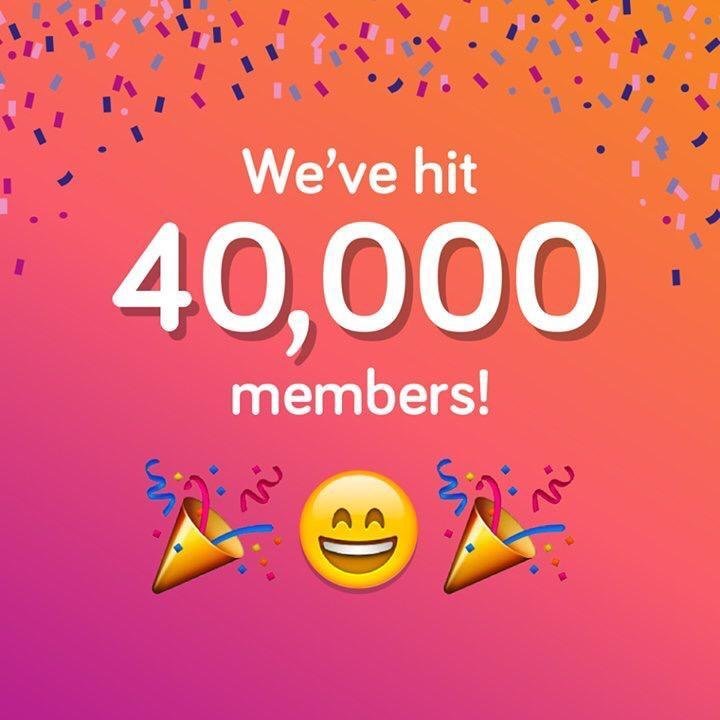 This group has changed the lives of thousands of people for the better. It has revolutionized the way people get their information and where to eat. It has the ability and power to make a difference and we sure have. It has taken on a life of it's own and it's because of everyone here.
We've had a wild ride these past 3+ years and I can honestly say I don't think there has been one day (besides Yom Tov) in the 1000 days that we've had this group that someone hasn't been helped or that dozens of conversations haven't been going on. There is always another post to read, another thread to comment on or another photo to like or share.
I am proud that we conduct ourselves with dignity and respect. I am proud that relationships have been formed. I am proud that businesses have been recognized and catapulted by the group and its members.
It has not been easy. We work hard, help people, put out good information and make this a safe place where others can enjoy and have fun. I am not ashamed or will ever hide that I do this for a living. I am proud what has been accomplished here and you ain't seen nothing yet.
There is so much more I want to do, so much work we can do together. Invite your friends to join this Foodie revolution we've started and let's see how far we can take this gravy train.
I want to thank all the admins who give up their time to help me steer this ship. You guys are there for me and this group at all hours of the day and night. You truly rock and yes, they pay for their meals.
But it's time to celebrate. Look out for some upcoming posts on how Foodies really throw a party.
Abigael's has taken over as the new kosher concession at Madison Square Garden in Manhattan. This makes so much sense for the restaurant which is a few blocks away from MSG and they already have been doing the catering in the suites for years. We'll have the menu soon, but this should give some enjoyment to Knicks and Rangers fans.
BROOKLYN
The Falafel Spot Comes to Canarsie
There is a new vegetarian falafel shop opening in my childhood neighborhood, on the corner of Foster and Ralph Avenues in Canarsie. Located at: 6002 Foster Avenue, Brooklyn, NY 11236. Phone: (347) 554-8824.
A new cafe in the Marine Park area just opened, serving pareve soups, salads, sandwiches and some dairy items as well. Locatedat: 2913 Quentin Road, Brooklyn, New York 11229.
A new grill place, Le Brick Falafel Shawarma & Grill, is opening soon in Walmart Plaza in Monsey. Located at: 250 NY Rt 59, Suffern, NY 109012
Bun Burger Kitchen Opens in Lakewood
At the new Bun Burger in Lakewood, you can get one of their signature salads, burgers or sandwiches, or make your own! The exciting new menu is brought to you by chef Jason Cappetta, formerly of Ottimo Cafe. Located at: 1091 River Ave, Lakewood, NJ 08701. Phone: (732) 392-6266.
Jin Glatt Kosher Chinese & Sushi Permanently Closed
The Passaic Chinese Restaurant is sadly closed after an investigation into questions about it's kashrus finding no evidence of non-kosher having ever come through the store. The store is now available for purchase.
South Side Smokehouse Gets a Sandwich Truck
If you're fan of the South Side Sandwich Shop & Smokehouse get ready to have your favorite BBQ come to you! Now a limited menu will be roving around Lakewood and occasionally venturing out to Deal. follow their whereabouts on Twitter @ssssfoodtrucknj.
Adam's Rib & Stuff Comes to Miami

The Chosen Cholent & Smokehouse has moved from Jersey down to Miami and is now Adam's Rib & Stuff, so if you're in the North Miami/Brickell area and want some smoked delicacies come by the Adam's rib truck and enjoy!

Cinnaholic from Shark Tank Opens in Boca

As seen on the hit show, Shark Tank, the award-winning gourmet cinnamon rolls with a variety of different frosting flavors and toppings. This is not your typical cinnamon roll shop. In addition to being 100% vegan, Cinnaholic offers more than just your average 'Old Fashioned' roll. Enjoy a variety of different flavors that are waiting to be explored, all made with the highest quality ingredients to tickle your taste buds. All of the products are dairy & lactose-free, egg-free and cholesterol-free. Located at: The Shops at University Park,
141 NW 20th St, B-1,
Boca Raton, Florida, 33431. Phone:
(561) 617-7277.
Got Kosher? Restaurant to be Renamed Harissa Restaurant
In early March Alain Cohen's Got Kosher? Cafe will be called Harissa Restaurant. In addition to many of the Got Kosher? menu favorites there will be an expanded array of French-Tunisian dishes. Located at: 8914 West Pico Boulevard (1 block west of Robertson), Los Angeles, CA 90035 Phone: (310) 858-1920.

Introducing to Encino, California is "Spinachi," a Cholov Yisroel dairy Italian restaurant opening this Sunday, by chef Yoel Raab, who moved to California from NY months ago for the Hollywood dream. Located at: 17930 Ventura Blvd, Encino, CA. Phone: (818) 776-0184
ITALY
tag heuer aquaracer 300m replica watches