Mendy's Renovating Front Half of Restaurant
Mendy's on 34th St. was closed during the Nine Days to renovate their storefront, the more casual, counter-service half of the restaurant. They're open and running as of Monday, so go check out the renovations!
Treat House Opens UES Location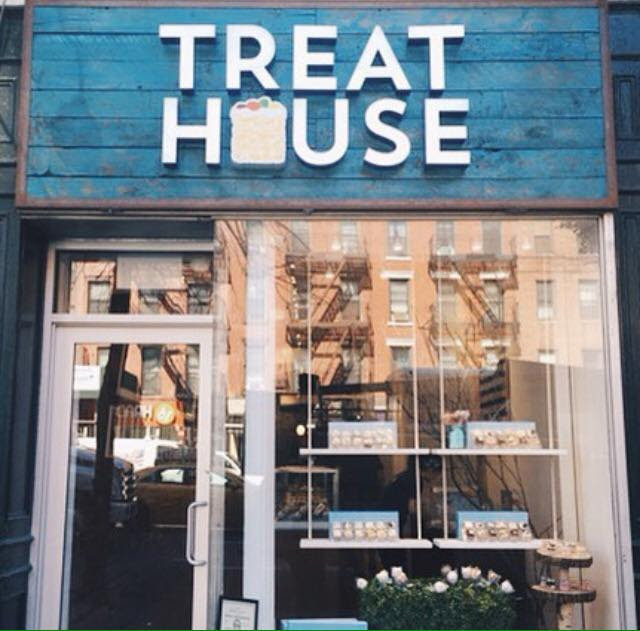 The popular gourmet rice crispy treat shop located in the Garden State Plaza in NJ has opened their second NYC location today. They are under the hashgacha of Rabbi Aaron D. Mehlman. The Treat House offers a variety of flavors including PB&J, Cookie Dough and S'mores. They also offer Ice Cream Bars and Treat pops! New Location: 1566 2nd Avenue.
BROOKLYN
Yossi's Glatt Sushi Opening on Fort Hamilton Pkwy

A Chinese/Sushi place will be opening in Brooklyn soon on the corner of Ft. Hamilton Pkwy and 53rd St. Yossi's will be conveniently located very near Maimonides, an area that has been lacking any real options for hospital staff and visitors. h/t Gabriel Boxer, Michelle Forkowitz
The Wok 'N Grill Gets Kicked Out, Looking for New Location
The Wok 'N Grill
, a Chinese restaurant located on Coney Island Ave between Ave P and Quentin Rd, opened a few months ago and became a quick friend and favorite among our Foodies with their VIP Grand Opening Party and All You Can Eat buffet nights. Unfortunately, there's been an argument over their lease, and the landlord has kicked them out of their current space. They are trying to fight it, but if anyone knows of any space for rent (not sell) in Brooklyn, please message
Elan
on Facebook, as the owner is eager to open again.
QUEENS
Shipudei Tziporah Grand Opening Today
We reported in our last newsletter that Meatos will be splitting their space with a new restaurant from Israel, Shipudei Tziporah. Their grand opening will be today, July 28th, opening at noon for lunch with dinner hours as well. Shipudei Tziporah is at 185-01 Union Turnpike, at 185th St.
5 TOWNS
BH Steakhouse Opening in Cedarhurst on Sunday
We alluded to it in a teaser in our last newsletter, but now we can tell you that
BH Steakhouse
will be opening this Sunday in Cedarhurst! Formerly Brasserie HaLevi, this restaurant is being revamped with a new name, a new menu, and a new chef. There will be a grand opening Open House event on Sunday, with complimentary hors d'oeuvres and drinks until the evening when #1 Blues Album singer
Lazer Lloyd
will take the stage and perform for the crowd.
RIVERDALE
Opening in the former location of Ginger Grill,
Kai Fan Asian Cuisine
has announced an opening date - August 5th! "Kai Fan" in Chinese translates to "start the rice," and they're finally ready to start! Kai Fan will be under the Va'ad of Riverdale.
'
GREAT NECK
Mumbai Grill Opening Soon
Mumbai Grill, a Glatt Kosher Indian restaurant is set to open in Great Neck, this September.
The restaurant is located at 178
Middle Neck Ro
a
d next door to Bagel Mentch. Very exciting. Photos courtesy of
Maurice Kavian and Ronnie Aziz.
PHILADELPHA
C&R Kitchen to Open as a High End Restaurant

Starting this week, C&R Kitchen will be reopening as a higher end New York style steakhouse. They will be open from 5:30 PM - 10 PM on Wednesday, Thursday, and Sunday evenings. Their chef has created a new, simpler yet more elegant classic steakhouse menu, and they're excited to debut it. On all other evenings, C&R will be available for private events, with the option of restaurant style meals from C&R or catered meals from their sister company, Six Points Kosher Events. To see their new steakhouse menu, click here.
Star of David Kosher Grill Opening in Philadelphia

Taking over the Burger.org location, brothers Nadav and Sharon Abargel opened a new meat restaurant in Philly last week. Sharon, who owns Espresso Cafe and Japanika, is returning to his Israeli roots with the Star of David Kosher Grill menu, which in addition to the classic Mediterranean fare, will be offering a wide variety of food, including sushi, Chinese, steak, and burgers. The Star of David Kosher Grill is under the supervision of Keystone-K - Community Kashrus of Greater Philadelphia. h/t Jewish Exponent
FLORIDA
Bunnie Cakes Expands to Aventura

Kosher, vegan and gluten-free? You bet. Bunnie Cakes started in 2009 by Mariana Cortez, a mother who could not find any goodies on the market that her son with dairy and gluten allergies could enjoy. She started creating and altering recipes herself and posting about them on her blog. Now, she's opening a second location of her allergy-free bakery, Bunnie Cakes, in the Aventura Mall on August 1st. Her first location is a storefront at 2322 NE Second Ave in Miami. Bunnie Cakes is under the supervision of Kosher Miami - Vaad HaKashrus of Miami Dade. h/t Miami Herald


Fuego Officially Open in Aventura Waterways

We originally broke this story in June on our blog, and now the move is official! Fuego has opened in the Aventura Waterways in the former Gigi's Cafe location. The move will make way for more seating, including outdoor seating as well as more parking. The opening night this week was filled with excited customers. Click here to see photos from the opening. Also, look out for their next venture, Blaze Burgers & BBQ, opening in the former Fuego location and coming soon!
h/t Zalmi Duchman
CALIFORNIA
Amba Grill in Oakland to Close
Amba Grill, the only kosher restaurant in the East Bay, will likely be closing its doors this summer. Jonathan Wornick, a vegan, opened Amba as a vegetarian restaurant, but later added meat to the menu in an attempt to better fulfill the community's needs. Unfortunately, the community didn't seem to need it enough. h/t
Jweekly